Paver blocks & Chequered Tiles
We offer Paver Blocks & chequered tiles which are available in various color and texture. The Paver Blocks & chequered tiles are designed perfectly to fit into the floor or the pavements to give striking appeal. The tiles are manufactured only from high quality ceramic, cement and other raw material to improve the strength, durability and finish of the tiles. Our tiles are widely used to provide highway beautification traffic separators/islands in the medians over the national highway. Our chequered tiles of dimension 300 mm X 300 mm are laboratory tested to attain the desired strength and durability. We provide a wide range of HIGH-GLOSS / MATT-FINISH PAVER BLOCKS & CHEQUERED TILES that are affordable and durable in all climates. Colored and textured pavement can connect the open spaces in the built and natural environment. The color can be found on the exterior facade or surrounding vegetation related. Pavers are just as beautiful inside as they are outside. We do not entertain customers who want sub-standard, inferior-quality product. We are very particular about quality element and entertain customers who are quality conscious. Quality is not compromised at any stage of production, come what may.


What are the advantages of our Inter-locking Concrete Paver Blocks & Chequered Tiles ?

There are many distinct features of Inter-locking Concrete Block Pavement (ICBP) and Chequered tiles (ICCP) as compared to the conventional methods of pavement construction and hence make it a suitable option. Some of these are: Ease to access to underground services and the fact that the blocks can be reused to restore the pavement to its original profile. Long term durability. Adequate skid resistance for vehicles and anti-slip element for pedestrian areas. The laying technique is suited to unskilled labour provided they have adequate supervision. Immediate use after laying and large life spans. Provides permanent road markings (Reflective pavers). Concrete blocks have good durability and wearing resistance and are unaffected by oil and other toxic substances. The maintenance requirements are low. Where maintenance must be carried out, it can be done with a minimum of equipment. The product is available in a wide variety of shapes and colours. This allows interesting designs to be constructed and also for the delineation of pedestrian areas, carparks, underground services, etc. We bring forth a qualitative range of Paver Blocks that is manufactured using advanced machinery. Accurate dimensions, attractive looks and matchless strength are the few defining features of the Paver Block range. Available in various sizes and shapes, the entire range can also be custom-made as per the designs and sizes required by clients. These are offered in a plethora of vibrant colors and shades and are highly durable. They have a long service life and are cost- efficient. Our range of products is extensively used in cities, urban as well as in rural areas. These find wide applications in outdoor paving for gardens, paths, swimming pools, storage yards, footpaths, landscaped and parking area, walkways, compounds and public parks. The emphasis is on providing innovative and attractive colors to suit the contemporary and conventional taste and preference of clients for their establishments.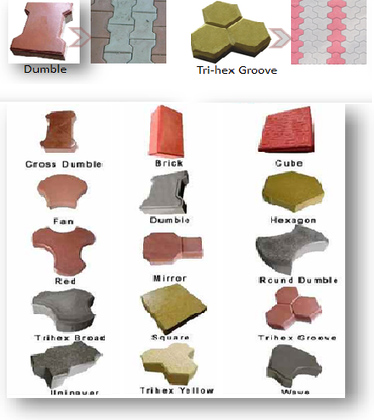 The paver blocks are manufactured in various concrete mix grades like M-20, 25, 30, 40 to meet the requirement of different applications. The paver blocks are available in different sizes like 40mm, 60mm & 80mm.